CHINA IMPORT DUTIES LOWERED
In an obvious mood to estimulate consumers' demand, it was announced yesterday a drop in duties for many categories.  Many Bulgarian Companies should be happy to know the goods. See the list we compiled above. It is effective from tomorrow  as of 1st of December 2017. Subtle list. E.g., snow ski and ski equipment tariffs are lowered substantianlly. Cosmetics and food and drinks also  Golf equipment.
Good news for drinks category. All the bulgarian water is wellcomed from 20 to 10% Vermouth (at last! it had a scandalous tariff) grape cordials, and whiskies, see a drop in its tariffs. Bulgarian, Italians, French, Irish, and people from the highlands, and in general all EU countries that have rakia, schnapps or similar, can put their booze at a lower price of the shelf in China. For a full list, ordered by HS ode read the pdf China import duties lowered.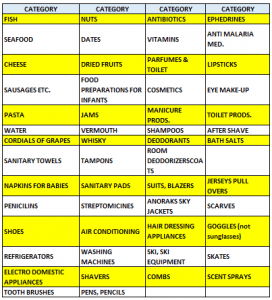 Import tariffs will be cut from an average of 17.3 per cent to 7.7 per cent on products including food, health products, medicines, clothes, shoes and hats as well as other daily goods.
The reduction follows moves since 2015 to reduce import duties amid rising demand for imported consumer goods, the ministry said.
It added that the latest reduction in tariffs was made in response to rising demand for quality goods that cannot currently be met domestically and would allow for increased consumer choice.
The problem is the Bulgarian national bank which violate the law and disapoint and obstruct all the Bulgarian Business