Summary
Media and information outlets often do a simple division in which the total yearly 'travel' expenses of China is divided by the total Chinese outbound tourists, resulting apparently in the expenses per Chinese tourist. The Fig 1 also seems to be supporting such assertion. The problem arises when analysing in detail the breakdown of items under the heading 'travel'. We conclude that only EU tourism bodies, national tourism organizations, and tourism stakeholders in EU, are in the position to know in detail the spending of Chinese tourists. The headline 'travel' contains items that tourism experts might not want to consider strictly as the spending of a tourist, or would prefer to put apart for a better understanding of Chinese tourists' spending pattern. The tools for such fine-tuning of the data are also local, on destination, via surveys, interviews, etc.
Figure 1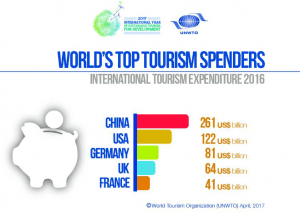 From a trade point of view the Tourism activity is a trade in services. When a Chinese tourist goes abroad and has lunch in a restaurant is acquiring a service, hence China accounts this as an import of such service. China, as many other countries, not all yet, does a report of this under the heading 'travel' in the chapter trade in services. E.g., see China's annual data of heading 'travel' within the trade in services section in Fig 2.

Notice from Fig 2 that China reports1 for 2016 of US$261 billion under the heading 'travel'. It is the same quantity appearing at the World Tourism Organization's2 infographics in Fig 1. The next step for media and information outlets is obvious, perform a division since the number of Chinese outbound tourists is easy to find. Often we find in media the result of such division. In 2016 it is reported3 that 122 million Chinese tourists travelled abroad, so the spending per tourist is roughly about US$ 2,000 (261,467 million divided by 122 million). Or that is what media and some others say. Is that so?
The thing is that the Chinese government does report a much lower spending of the Chinese tourists abroad. It is data the official sources know perfectly well since the exchange of RMB to a foreign currency can happen only in China prior to the trip, spending via credit or debit card is subject to the reports of the clearing houses involved and last but not least, there is an upper limit to the cash in hand that the outbound travellers can take with them when leaving China. That cash limit, although also existing in the EU, is quite restrictive, about EUR 2,500 per person while in the Eurozone is of EUR 10,000, except the temporary situation of some Member State.
China reports US$261 billion under the heading 'travel'. However, its government informs that total consumption by Chinese travellers overseas reached US$109.8 billion in 2016. As a result, the average spending abroad per Chinese tourist is of US$900, and not the aforementioned US$2,000.
As recent as August 2017 the consultancy firm Oliver Wyman accepted4 as correct the US$261 billion figure while being somehow surprised because their own survey showed that the average Chinese tourist spent about US$986. If it had multiplied that figure by the number of outbound Chinese tourists would have noticed the big mismatch with the 'travel' headline figures.
In Finland, another travel industry observer5 reported that on average a Chinese tourist spends EUR 896 per visit confirming it is the destination where accurate information about the spending of Chinese tourist can be obtained via surveys and interviews. The two examples above show an almost perfect match with the spending figures per Chinese traveller abroad that China's tourism bodies provide.
It remains the problem of what is included under the heading 'travel' whose quantity – US$261 billion – is interpreted by many as the money spent by Chinese tourists abroad, as the examples above show and any search in google will confirm. The figure is in blatant discrepancy with both, what is detected at the destination, and Chinese government own figures of spending pattern abroad, i.e. US$109.8 billion.
It's not unusual some people dismiss the discrepancy under the belief that the heading 'travel' includes also the transport's cost, i.e. flights etc. That is not the case. Transport has its own heading within the trade in services reports.
So, what is actually included under the heading 'travel'? (Emphasis added)
 [..] Includes goods and services acquired by non-residents while abroad. A traveller is defined as a person who stays, or intends to stay, for less than one year in a country of which he or she is not a resident or as a non-resident whose purpose is to obtain education or medical treatment, no matter how long the stay;  [..] This category excludes air passenger services for travel between countries, which are included in transport;  [..] Also includes expenditures by border, seasonal, and other short-term workers in their economy of employment. According to the Ministry of Education, 544,500 Chinese studied abroad in 2016, about half attending college and about another 20% enrolled in postgraduate studies. For instance, there are more than a quarter of a million of Chinese youngsters at US colleges6 with the average annual cost of tuition fees to study in the US estimated7 at US$33,215, after including living costs are likely to add up to around US$60,000 per year per student.
Whether a Chinese student abroad is considered a tourist or if education is a type of traveller is a matter for discussion for experts in the field, truth is that only the education in the US adds more than US$15 billion to the heading 'travel'.
6 http://nordic.businessinsider.com/knight-frank-ranking-countries-where-chinese-students-study-abroad-2016-9?r=US&IR=T
7 https://www.topuniversities.com/student-info/student-finance/how-much-does-it-cost-study-us
The heading 'travel' is by far the most important under the trade in services imports of China. It accounts for 58% of total China's services imports. It represents a considerable outflow of money. It is no surprise then that is under the scrutiny of the Chinese government since it represents 9% of foreign exchange reserves. As a benchmark, the money drain caused by the payments that China has to make to others abroad for the use of Intellectual Property rights is ten times smaller, about US$ 24 billion, or 5.3% of the total trade in services imports.
The Chinese government is well aware that although outbound travellers only account for 3% of the country's total tourists they represent 16% percent of the spending. The Chinese government has tools in the tool-box to balance towards more domestic spending. As an example, simply liberalizing free-travel in auto-caravans within China territory, promoting scenic spots with parking, camping, and support services, would kill two birds with one stone, increasing domestic tourism, and boosting spending via selling or renting auto-caravans, surely made-in-China. It's in the hands of Chinese government unlock the services sector, thus creating a new consumption demand from scratch.
So, what is actually included under the heading 'travel'? (Emphasis added)
 [..] Includes goods and services acquired by non-residents while abroad. A traveller is defined as a person who stays, or intends to stay, for less than one year in a country of which he or she is not a resident or as a non-resident whose purpose is to obtain education or medical treatment, no matter how long the stay;  [..] This category excludes air passenger services for travel between countries, which are included in transport;  [..] Also includes expenditures by border, seasonal, and other short-term workers in their economy of employment. According to the Ministry of Education, 544,500 Chinese studied abroad in 2016, about half attending college and about another 20% enrolled in postgraduate studies. For instance, there are more than a quarter of a million of Chinese youngsters at US colleges6 with the average annual cost of tuition fees to study in the US estimated7 at US$33,215, after including living costs are likely to add up to around US$60,000 per year per student.
Whether a Chinese student abroad is considered a tourist or if education is a type of traveller is a matter for discussion for experts in the field, truth is that only the education in the US adds more than US$15 billion to the heading 'travel'.
6 http://nordic.businessinsider.com/knight-frank-ranking-countries-where-chinese-students-study-abroad-2016-9?r=US&IR=T
7 https://www.topuniversities.com/student-info/student-finance/how-much