If you've just finished university and are looking for a fresh start in a new place, here are 15 European cities that are ideal for recent graduates to begin their careers.
Sofia is No 9 in the list
The fall semester is approaching, and it's back to school for some – but many will already be thinking about what comes next. The new graduates of 2019 are recharged from a summer rest, and the class of 2020 are looking ahead to a new life in a different city after the final academic push.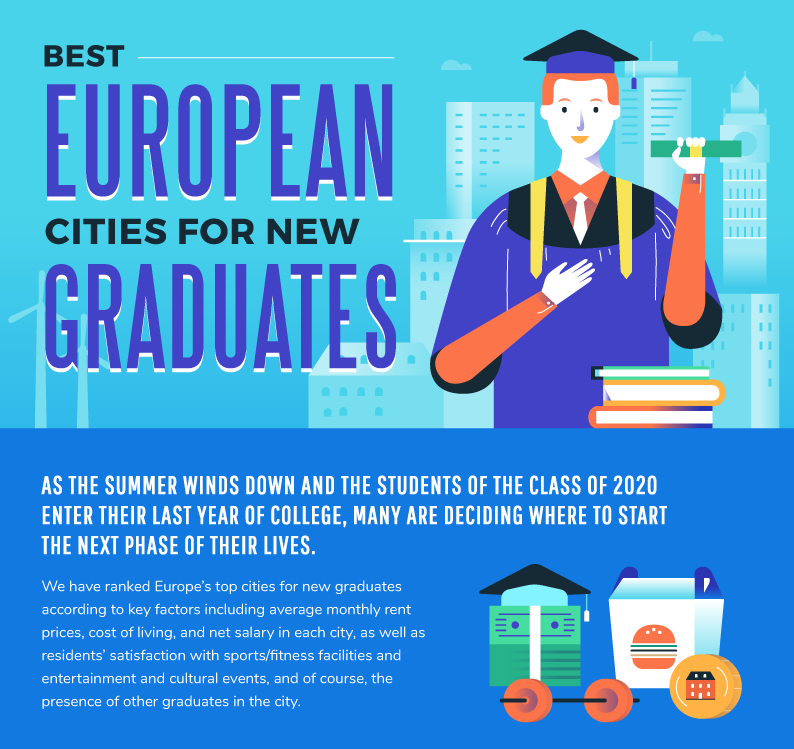 As a recently-qualified student, you need to know where the jobs are. You might want to follow a particular sport, arts, or social scene. And let's face it, you're fed up of student accommodation – it's important to find somewhere you can get a nice place and afford to eat and party like a grown-up!
You might be surprised by some of the hotspots we identified. The affordability of up-and-coming places like Glasgow, Munich, and Sofia make them very competitive against the well-trodden routes of Berlin, Barcelona, and Prague. Where do you see yourself starting the next phase of your life?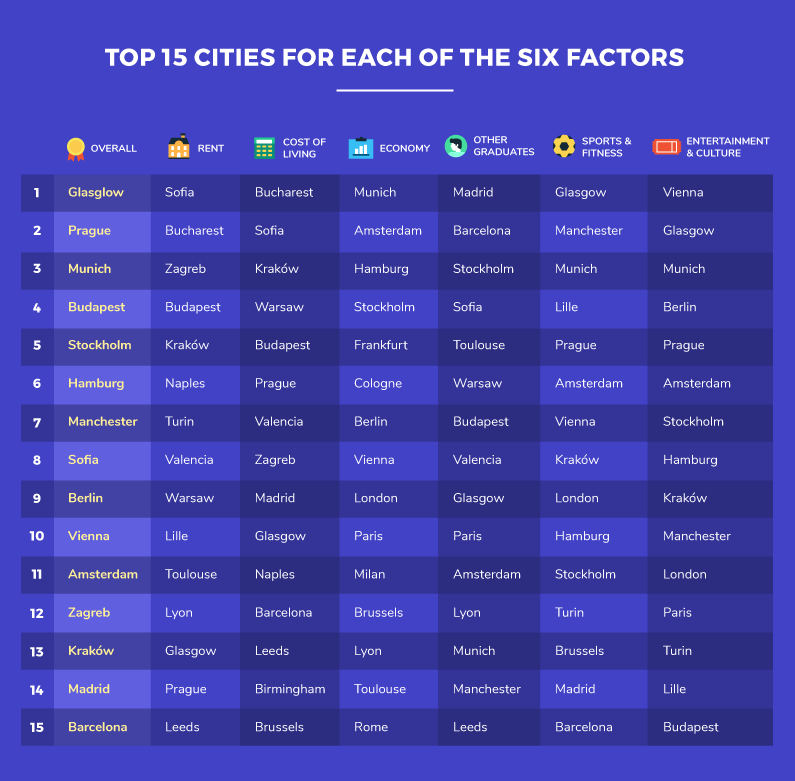 Which European city is the most suited for new graduates?
Not too expensive and with a lot going on: Glasgow, UK is the top graduate destination on our list.
Glasgow's inhabitants are happier with their city's sports and fitness facilities than any others in our analysis. In one survey, 39% of respondents said they were "very satisfied" with Glasgow's facilities. The city also ranks number two for local satisfaction with the arts life, thanks to venues like the Royal Concert Hall, Centre for Contemporary Arts, and the legendary King Tut's Wah Wah Hut gig venue.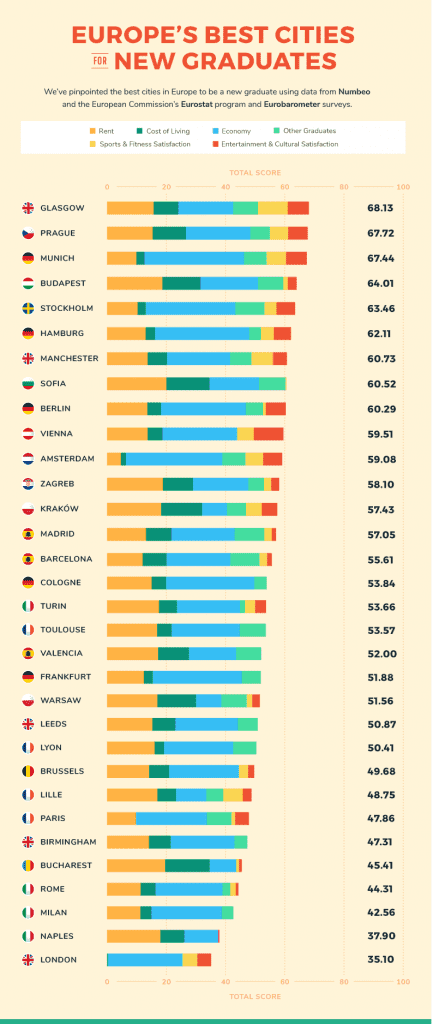 Our research is backed-up by the city's student retention rate. A healthy 67% of Glasgow's graduates stay on to work in the city, according to an analysis by non-partisan research organization Centre for Cities. This is nearly the highest retention rate of any UK city.
With low unemployment, an average wage of €1950 per month and a one-bedroom apartment costing just under €700, Glasgow is a great place to get a start while the ink is still drying on your diploma.
Which type of European city is best for graduates?
Many of the best destinations for new graduates are Europe's capital and second-tier cities. Most are in Western Europe, but the east offers some exciting alternatives thanks to the low cost of living and moderate-to-good GDP growth. Prague, Sofia, Zagreb, and Kraków all made it into our top 15.
London, Paris, and Rome may be great tourist destinations thanks to their buzz and cultural life, but they rank towards the bottom of our list due to high rents and cost of living. In fact, France and Italy don't have any cities in our list. Germany is home to three top 15 cities, the most of any country, thanks to its healthy economy, lively cultural scenes, and emphasis on healthy living.
Where is the least expensive housing for new graduates in Europe?
A one-bedroom apartment in Sofia costs an average of just €364.56 ($408.52) a month. Bulgaria's capital and largest city is home to 1.2 million people and has the second-lowest-cost of living in our analysis. Although Sofia's sports and cultural amenities are not highly-ranked (just 8% of residents are "very satisfied" with the city's fitness facilities), there are mountains and forests for hiking not far from the city.
Which European cities have the lowest cost of living?
Bucharest has the lowest average cost of clothing, groceries, restaurants, sports and leisure activities, transportation, and utilities for a single person: just €439.13 ($492.08) a month. The city also has the second-lowest rent in our study, at €395.18 ($442.83) for a one-bedroom apartment. Up-and-coming neighborhoods in the city include Old Town in the center, Cotroceni to the west, and Universitat near the University of Bucharest – a thriving area for young people and nightlife.
Where in Europe should new graduates go for the best chance of finding a good job?
Munich is a great place to work, and is known as a center of engineering, finance, and publishing. This historic city has one of the strongest economies in Europe by a number of measures. Unemployment is at 3.5%, the second-lowest of any city in our analysis. GDP is rising at a healthy rate. And the average worker earns €2,645.98 ($2,965.06) a month – the top earnings in our study.
Munich is enjoying rapid growth in innovation-driven industries. Employment in architecture and engineering grew 41.5% from 2012 to 2017, and employment in information and communication grew 33.6%, according to data from the City of Munich Department of Labor and Economic Development.
Where in Europe can young professionals find new friends?
New graduates tend to experience a fast-evolving social life. You're most likely to meet and work alongside graduates aged 25 to 64 in Madrid, according to our analysis. Many will have graduated from one of the city's highly ranked universities, such as Autonomous University of Madrid, Complutense University of Madrid, or Charles III University of Madrid. So they'll be able to show you how to have a good time in town!
What are the best European cities for staying in shape?
The popularity of Glasgow's sports fields and indoor sports halls is just part of the story. Other opportunities for physical activity include the city's eight outdoor gyms and the free weekly group 5k runs through the city. Glasgow's extreme sports enthusiasts are well served by Cathkin Braes mountain bike trails, Glasgow Wake Park for wakeboarding, and Snow Factor – a year-round indoor ski center with the longest indoor real snow slope in the UK.
Which European cities are the most fun for graduates?
Four out of five survey respondents said they were "very satisfied" with the cultural facilities in Vienna. The city's concert halls, theatres, museums, and libraries make it the most popular city for culture in our analysis. Cultural activities include the Vienna State Opera House, the Spanish Riding School dressage exhibition, and Prater amusement park. But there's also great stuff to do for free. The Schönbrunn Palace gardens and Naschmarkt and Brunnenmarkt farmers markets cost nothing to enter, and Viennese concert cafés often host free piano recitals.
Vienna also has a lot of history to see. It was the center of the Austro-Hungarian Empire until its collapse in World War I, and is dotted with palaces, town squares, and buildings in the Baroque architectural style.
Like any major life decision, the choice of where to live after graduation involves a number of trade-offs. Inexpensive cities like Sofia and Bucharest may be the perfect fit for more cost-minded grads, but may not suit those looking for a city with more cultural attractions. London and Paris may have that 'major city' vibe, but the cost of living can be a struggle while you're still establishing yourself as a professional.
Finding the right city and the right job after graduation can have long-term career impacts. According to a study by the Strada Institute for the Future of Work, if your first job after graduation does not require you to have a degree, you are five times more likely to be 'underemployed' five years later than those graduates who made immediate use of their qualification. You will earn on average 27% less than contemporaries doing graduate-level work, a pattern that will continue over a decade.
Graduation is an exciting time that's filled with opportunity and adventure. While you never know quite where you'll catch your social and professional 'lucky breaks,' it is well worth considering your options in depth before committing to a new city. The good news is, there are lots of options in Europe – and there's plenty of variety so you can find a place that suits your needs.
Methodology
To determine the best European cities for new graduates, Resume.io constructed a weighted index of 32 European cities based on six categories: rent, cost of living, economy, other graduates, sports and fitness, and entertainment and culture.
The rent component consists of the average price of a one-bedroom apartment as of July 2nd, 2019 from city and country database Numbeo and is included in the index at 20% weight.
The cost of living component consists of the average cost of clothing and shoes, groceries, restaurants, sports and leisure activities, transportation, and utilities for a single person in a month as of July 2nd, 2019 from Numbeo and is included in the index as 15% weight.
The economy component collectively consists of the 2017 unemployment rate for regions and cities from the European Commission's Eurostat program weighted at 10%, the change in GDP from 2015 to 2016 for NUTS 3 regions from Eurostat weighted at 10%, and the average monthly net salary after tax as of July 2nd, 2019 from Numbeo weighted at 15%.
The other graduates component consists of an estimate of the share of persons aged 25 to 64 with a level of education classified as 5, 6, 7, or 8 — associate degree, bachelor's degree, master's degree, or doctoral degree — on the International Standard Classification of Education (ISCED) from Eurostat and is included in the index at 10% weight. The estimate is based on the number of adults aged 25 to 64 with ISCED level 5, 6, 7, or 8 as a share of the population aged 20 to 64 in a city, itself an estimate based on the age-dependency ratio and total population figures provided by Eurostat. Data for each city is for the most recent period available.
The sports and fitness component consists of the share of survey respondents who said they were "very satisfied" with sports facilities such as sports fields and indoor sports halls in their city of residence in the European Commission's Quality of Life in European Cities 2015 survey and is included in the index at 10% weight.
The entertainment and culture component consists of the share of survey respondents who said they were "very satisfied" with cultural facilities such as concert halls, theatres, museums, and libraries in their city of residence in the Quality of Life in European Cities 2015 survey and is included in the index at 10% weight.
The final rank is based on the sum of all weighted factors. Null values were treated as zeros. Cities considered in the analysis include Paris, France; London, United Kingdom; Berlin, Germany; Madrid, Spain; Rome, Italy; Bucharest, Romania; Hamburg, Germany; Vienna, Austria; Budapest, Hungary; Warsaw, Poland; Barcelona, Spain; Munich, Germany; Milan, Italy; Prague, Czech Republic; Sofia, Bulgaria; Brussels, Belgium; Birmingham, United Kingdom; Cologne, Germany; Lyon, France; Naples, Italy; Amsterdam, Netherlands; Stockholm, Sweden; Lille, France; Turin, Italy; Zagreb, Croatia; Valencia, Spain; Leeds, United Kingdom; Kraków, Poland; Frankfurt, Germany; Glasgow, United Kingdom; Toulouse, France, and Manchester, United Kingdom
Thanks to Digital Information Wolrd.