Region has hosted annual conference to improve China's relationship with Central and Eastern Europe since 2015
East China's Ningbo city has made great efforts in promoting China's cooperation with Central and Eastern European countries, also known as CEEC.
The coastal city in Zhejiang province has created a multilevel, wide-ranging and high-quality cooperation pattern with CEEC and provided other Chinese cities an example of how to be involved in China-CEEC cooperation.
Since 2015, Ningbo has hosted all four sessions of the China-CEEC Investment and Trade Expo.
The event now serves as an important platform for economic cooperation and cultural exchanges among the countries, and also has strongly boosted the implementation of the China-proposed Belt and Road Initiative.
In March, the investment and trade expo was upgraded to a State-level event and renamed the China-CEEC Expo and International Consumer Goods Fair. The first session will take place in Ningbo on June 8.
The city is also home to China's first "16+1" Economic and Trade Cooperation Demonstration Zone, which later turned into the "17+1" cooperation demonstration zone thanks to the addition of Greece. The zone was established in Ningbo in November 2017, marking a new stage of Ningbo-CEEC relations.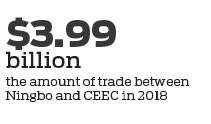 Over the past five years, Ningbo has strived to build itself into the first choice for Central and Eastern European countries to export goods to Chinese markets, as well as for China-CEEC investment and cooperation, and China-CEEC cultural and educational exchanges.
It has played an increasing role in promoting the China-CEEC cooperation mechanism as the main host of related high-level activities, including ministerial conferences, trade and investment expos and forums on customs.
In 2017, the Ningbo government and the then General Administration of Quality, Supervision, Inspection and Quarantine signed an agreement to construct an inspection and quarantine pilot zone for China-CEEC trade facilitation.
To date, 14 related measures have been launched, such as to open a green channel for the inspection of imported CEEC goods and to speed up accession of their agricultural products.
The city and CEEC have seen steady trade growth in recent years.
In 2018, bilateral trade reached $3.99 billion, an increase of 23.1 percent year-on-year and accounting for 4.5 percent of the country's total.
Of it, Ningbo's imports from countries in Central and Eastern Europe more than doubled the number in 2016.
The city's permanent CEEC products exhibition and sales center opened in 2015 and currently has 23 national pavilions including Hungary, Poland and Romania, which exhibit a total of more than 3,000 kinds of specialty products. The center is the largest of its kind in China.
The Ningbo Free Trade Zone also set up a CEEC trade logistics park and more than 30 outlet centers in Xi'an, Qingdao and other places to distribute imported CEEC commodities.
Last year, the number of containers transported between the Ningbo-Zhoushan Port and four ports in Romania, Slovenia, Croatia and Poland reached 334,000 twenty-foot equivalent units, up 16.5 percent year-on-year.
Business cooperation and cultural and educational exchanges between Ningbo and CEEC have been enhanced.
The city had carried out 141 two-way investment projects with CEEC by the end of 2018, and its colleges and universities established partnerships with 78 CEEC counterparts.
They initiated nearly 100 educational cooperation projects involving more than 500 students.
The Sofia China Cultural Center, which opened in November 2017 in Bulgaria, is the first of its kind established by the Ministry of Culture and Tourism in Central and Eastern European countries, with Ningbo supporting its running.
Over the past year, the center has held more than 10 Chinese cultural events such as the Chinese musical Ten Miles Red Makeup and intangible cultural heritage exhibitions of Ningbo.
Other efforts the Ningbo government has made to promote cooperation with CEEC include the establishment of a leadership group headed by the city mayor and the development of sister city ties with 21 cities in Central and Eastern European countries.
China Daily